Country-Sänger Doug Adkins schafft es in die Sing-Offs bei The Voice of Germany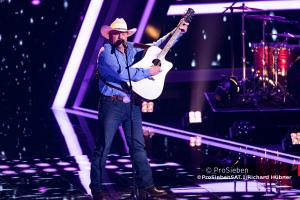 American Country Sanger Doug Adkins singt "Achy Breaky Heart" bei The Voice of Germany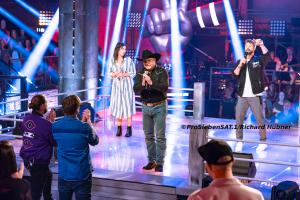 Doug Adkins und Claudia Pahl singen Billy Eilish Lied "Ocean Eyes" bei The Voice of Germany 2020
Montana Country Artist Doug Adkins hat es in die Sing-Offs bei The Voice of Germany geschafft
"Das hatte was von Johnny Cash und seiner Tochter", resümierte Moderator Thore Schölermann."
— Thore Schölermann
NORDRHEIN-WESTFALEN, GERMANY, November 27, 2020 /EINPresswire.com/ — Der amerikanische Country-Sänger Doug Adkins (Douglas Adkins) bringt sein Talent zu The Voice of Germany 2020! Musikfans aller Genres in Deutschland, der Schweiz und Österreich kennen Adkins sehr gut, da er seit vielen Jahren regelmäßig bei Festivals, Clubs und Firmenveranstaltungen in ganz Europa zu sehen ist! Auf die Frage, warum er sich für The Voice of Germany entschieden habe, sagte Adkins: "Nachdem meine Sommertour für 2020 wegen der Corona-Pandemie abgesagt wurde, hatte ich viel Freizeit und beschloss, meinen Hut für The Voice Of Germany in den Ring zu werfen. Ich bin sehr froh, dass ich es getan habe!" In den Blind Auditions sang Adkins den Country Mega Hit "Achy Breaky Heart" von Billy Ray Cyrus ! Die Coaches Mark Forster (Deutschland) und das Team Samu Haber (Finnland) und Rea Garvey (Irland) drehten ihre Stühle für Adkins. Am Ende entschied sich Adkins für das finnisch-irische Team Samu-Rea.
In den Battles sollten Adkins und seine Battle Partnerin Claudia Pahl einen der Lieblingslieder von Coach Rea Garvey singen, den Billy Eilish Hit "Ocean Eyes". Die Coaches müssen danach entscheiden, wen sie mit in die nächste Runde nehmen. Als Doug Adkins sagte "Dieses Lied ist zu 100% nicht in meiner Komfortzone" und Claudia Paul behauptete "Das Lied ist zu groß für mich, ich kann das nicht!", fragten sich die Coaches, ob die beiden Sänger es schaffen könnten. Coach Rea Garvey wünschte sich eine "magische Performance". Sein Wunsch wurde erfüllt. Adkins und Pahl überarbeiteten den Song, um ihm eine frische Country-Atmosphäre zu verleihen. Mit ihrer eigenen Version von "Ocean Eyes" überzeugten Douglas Adkins und Claudia Pahl die Coaches und Zuschauer mit Emotion und viel Gefühl. Das Ergebnis, Stefanie Kloß vom Team Stefanie Kloß und Yvonne Catterfeld hatte Tränen in den Augen und brauchte ein Kleenex von Mark Forster. "Das hatte was von Johnny Cash und seiner Tochter", resümierte Moderatorin Thore Schölermann. Nachdem keiner der anderen Coaches eine Stimme für eines der Talente abgeben wollte, entschieden sich Samu Haber und Rea Garvey schließlich für "3, 2, 1 – Douglas"!
Als nächstes stehen für Doug Adkins die Sing-Offs an. Der Auftritt wird am Sonntag, den 06.12.200 auf SAT. 1 und am Samstag, den 12.12.2020 auf ProSieben ausgestrahlt.
Doug Adkins Country
DMA Music
+49 172 3490068
[email protected]
Visit us on social media:
Facebook
Twitter
Doug Adkins singt "Achy Breaky Heart" bei The Voice of Germany 2020
The post Country-Sänger Doug Adkins schafft es in die Sing-Offs bei The Voice of Germany first appeared on Siver News.
Liechtenstein - Siver News originally published at Liechtenstein - Siver News