"A new and vital culture of remembrance"
type:
News

, Topic:
Security

, Date:
05 September 2022
At the event honouring the victims of the attack at the 1972 Munich Olympics, the Federal Minister of the Interior and Community calls for more empathy and support for attack victims
At the memorial ceremony in Fürstenfeldbruck, Bavaria, for the victims of the Munich Olympics massacre, Interior Minister Nancy Faeser spoke of deep wounds and agonising questions. "It's shameful that it took so long before there was any understanding or reappraisal of the events, transparency about them, or acceptance of responsibility for them," Minister Faeser said to the victims' families, who had travelled to Munich for the 50th anniversary of the attack.
Thorough examination by German-Israeli commission of historians
The Federal Government supports the victims' families, who continue to this day to suffer as a result of what happened. "Finally, the events are being thoroughly examined by a German-Israeli commission of historians. This lays the foundation for a new and vital culture of remembrance," Faeser said. "It is true not only for this attack, but also for others, that we must treat people whose lives have been dramatically altered by attacks with greater empathy and support."
Faeser said that as Interior Minister, she wanted to remind the audience that the tragedy of the failed rescue operation had also led to the founding of the German special counter-terrorism unit GSG 9. After the terrible events of 1972, she said, it is a gift that GSG 9 has been able to build up a very close relationship with the Israeli special counter-terrorism unit, the Yamam, in recent decades.
Joint German-Israeli commemoration
German and Israeli representatives came together at a commemorative event in Fürstenfeldbruck to honour the families of the victims of the attack. Israeli President Isaac Herzog, Federal President Frank-Walter Steinmeier and the surviving family members of the victims had been invited by the Federal Minister of the Interior and Community, the Bavarian Minister-President and the chief executive official of the rural district of Fürstenfeldbruck to attend the event.
The attack took the lives of eleven Israelis and one German. On 5 September 1972, a Palestinian terror group broke into the apartment of the Israeli team and shot dead two team members on the spot before taking nine others hostage. In a failed rescue attempt at the Fürstenfeldbruck air base, all of the Israeli hostages were killed and one Munich police officer also died in the crossfire.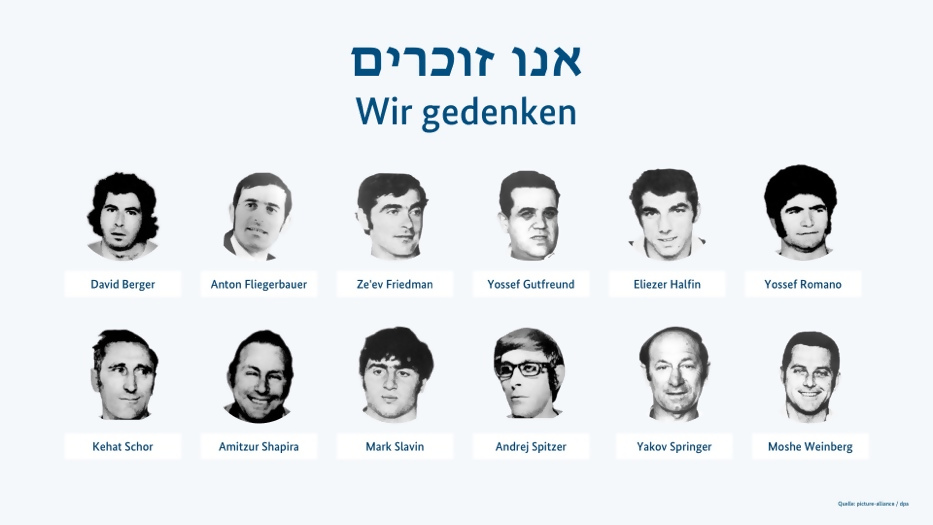 Grafik der Opfer des Olympia-Attentats 1972 in München (Larger version opens in new window)




Source: BMI

The victims of the attack at the Munich Olympics in 1972
David Berger
David Berger was 28. He starting lifting weights at the age of 13. After deciding to become a professional athlete, David emigrated to Israel and took part in competitions there. He died in the early hours of 6 September 1972 in a burning helicopter.
Anton Fliegerbauer
Anton Fliegerbauer was 32. He was a police officer in Lower Bavaria; on 5 September 1972 he and his unit were summoned to Fürstenfeldbruck by their superior. Anton died that night in an exchange of gunfire with the terrorists. He left behind a wife and a four-year-old son.
Ze'ev Friedman
Ze'ev Friedman was 28. He emigrated to Israel with his parents and worked as a physical education teacher there. The Olympics were to be the high point of his career as a weightlifter. Ze'ev died of gunshot wounds at Fürstenfeldbruck airfield on 6 September 1972.
Yossef Gutfreund
Yossef Gutfreund was 40. A Holocaust survivor, Yossef emigrated with his family to Israel, where he discovered his love of wrestling and became a wrestling referee. During the attack, Yossef enabled a weightlifting coach to escape. He himself was shot to death. Yossef was the father of two children.
Elizier Halfin
Elizier Halfin was 24. From an early age, he showed a talent for freestyle wrestling. He emigrated from the then-Soviet Union to Israel in 1969, learned Hebrew, and trained at the national sport centre for his dream of competing in the Olympics. Eliezer was shot to death in the early hours of 6 September 1972.
Yossef Romano
Yossef Romano was 32. He came to Israel from Libya at the age of six. Before competing at the 1972 Olympic Games, he was Israel's middleweight weightlifting champion ten times in a row. Yossef was shot by the terrorists on 5 September 1972. He was the father of three children.
Kehat Schor
Kehat Schorr was 53. He too was a Holocaust survivor. A well-known marksman, in Israel he worked as a coach and led the national rifle team. Kehat died of a gunshot wound on 6 September 1972.
Amitzur Shapira
Amitzur Shapira was 40. From an early age, he was a successful track athlete. After retiring from active competition, he worked as a physical education teacher and coach. In Munich, he was coaching a female Israeli athlete in the hurdles. Amitzur bled to death in the early morning of 6 September 1972 in a helicopter.
Mark Slavin
Mark Slavin was 18. In the Soviet Union, he was a junior wrestling champion. Three months before the Olympics, Mark emigrated to Israel. The terrorists took him hostage and shot him on 6 September 1972 in a helicopter. His first Olympic match would have been on the previous day.
Andrej Spitzer
Andre Spitzer was 27. Andre had been an enthusiastic fencer since his youth. In Munich, he was coaching two fencers, who escaped the terrorists. Andre was shot by the terrorists in Fürstenfeldbruck. His daughter had been born just two months earlier.
Yakov Springer
Yakov Springer was 51. He was the only member of his family to survive the Holocaust. Yakov taught physical education and was recognised in Israel as a pioneer in weightlifting. The sixth of September 1972 would have been his last day as an Olympic judge. He died in Fürstenfeldbruck of a gunshot wound.
Moshe Weinberg
Moshe Weinberg was 32. His friends called him Muni. He was a multiple national champion in wrestling. In Munich, he was coaching Mark Slavin and Elizier Halfin. Moshe became the terrorists' first victim on 5 September 1972 when he was shot in the Olympic Village.
Originally published at https://www.bmi.bund.de/SharedDocs/kurzmeldungen/EN/2022/09/gedenken-50-jahre-olympia-attentat-en.html;jsessionid=4CB61EE2AD789AF736E6A9239EE8BE0E.1_cid295