The Foreign Service Review (États généraux de la diplomatie) was an open consultation on the evolution of France's foreign service, involving users of diplomatic and consular services and French external action stakeholders such as members of parliament, local government bodies, businesses, NGOs, researchers and the media. The aim was to adapt and update diplomatic work and professions to best meet expectations.
Download the summary of the President's speech (PDF – 37.1 KB)
On Wednesday, 15 March, Catherine Colonna received the committee of the Foreign Service Review for the delivery of its report. Building on its reflection and some 1,000 proposals made by participants, the report takes stock and makes recommendations for structures, methods, and financial and human resources, as well as the organization of the diplomatic professions. In line with the Minister's guidelines, it sets out options for an overhaul of our diplomatic instrument to serve both the foreign policy and the people of France.
Remise officielle à @MinColonna du rapport issu des Etats généraux de la diplomatie, fruit d'un processus de consultation inédit au Quai d'Orsay.
Il servira de base à la transformation de notre outil diplomatique, au service de la politique étrangère de la France et des Français. pic.twitter.com/8JLT1JiQDw

— France Diplomatie (@francediplo) March 15, 2023
On 1 September 2022, the French President announced the launch of the Foreign Service Review. This collective reflection aimed to feed into the reform of the upper civil service, under the authority of the Minister for Europe and Foreign Affairs. The broad consultation of France's diplomatic staff aimed to ensure everyone could contribute and be heard. All Ministry staff, regardless of status and position, were invited to contribute.
This Diplomatic Service Review should enable us to address, openly and inclusively, the evolution of our missions and diplomatic and consular professions in a world facing multiple and profound changes.
Catherine Colonna, Minister for Europe and Foreign Affairs, 10 October 2022
This reflection aimed to:
-* Produce effective, tangible solutions to increasingly complex crises
Address the evolution of diplomatic and consular work and professions openly and inclusively
Strengthen France's diplomatic instrument, increase its effectiveness and improve working conditions
Catherine Colonna, Minister for Europe and Foreign Affairs, et Jérôme Bonnafont, Rapporteur-Genera, 10 October 2022. © MEAE/Judith Litvine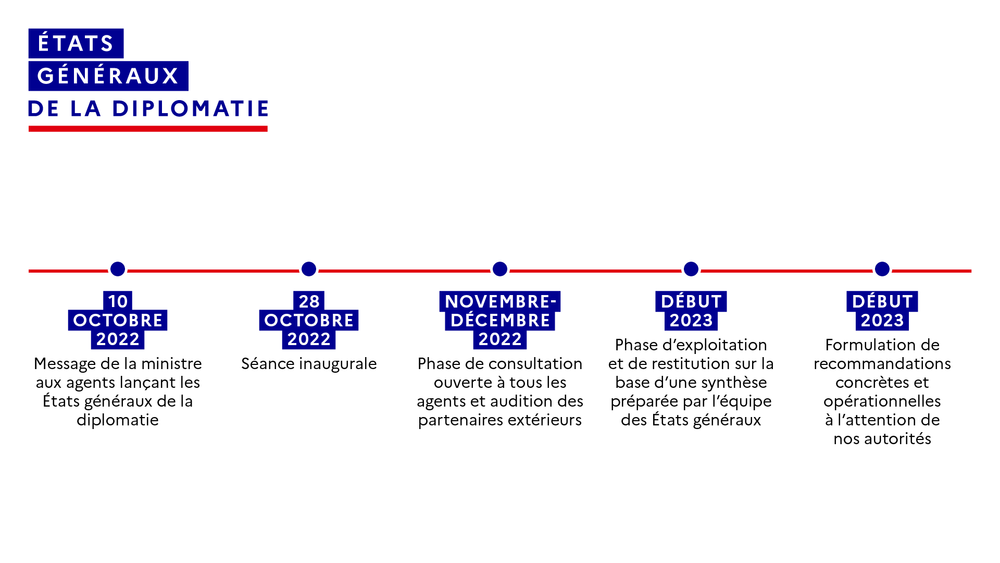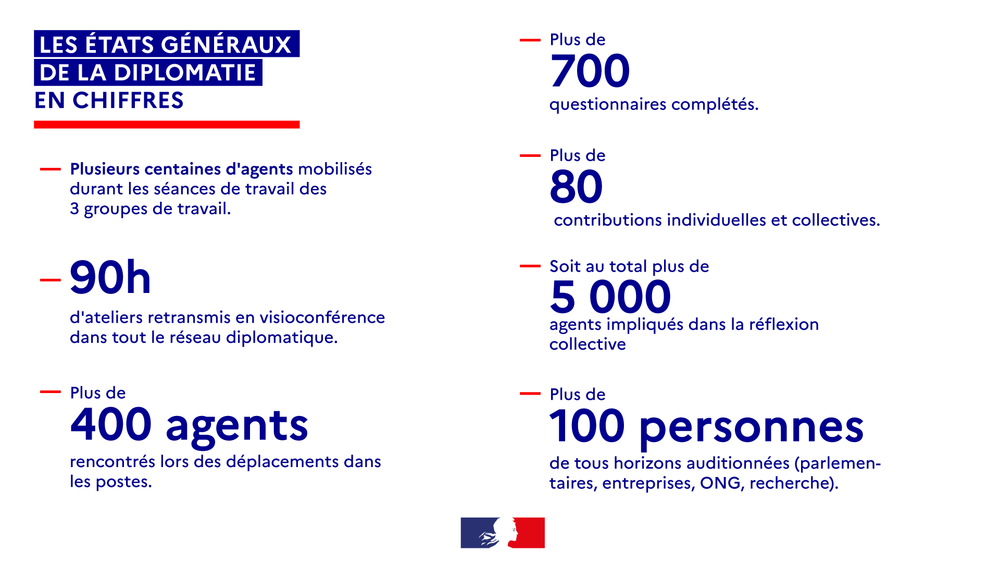 A team was created, led by Rapporteur-General Jérôme Bonnafont. The Review involved three working groups, coordinated by a secretariat:
Challenges of diplomacy and defining the diplomatic profession in the 21st century
Working conditions, career paths, functioning and methods
The Ministry for Europe and Foreign Affairs as the interministerial leader for France's external action and interaction with non-state partners
The Review was governed by a charter guaranteeing the transparency, inclusiveness and independence of its work.
Various forms of participation were put in place to enable all staff to contribute.
A questionnaire was sent to the Ministry's 13,500 staff, both in France and in the diplomatic and consular network. The anonymous survey addressed the diplomatic professions and their missions, diplomats' training and skills, career paths, postings and mobility, and occupational equality. The responses were analysed by the Review's team and summarized at the end of the consultation phase.
Individual and collective contributions, to be published or kept unpublished as preferred by their authors, could also be sent to the Review team.
Workshops open to all staff members were organized, both in person and online, to discuss specific themes such as new global challenges (climate, health, digital technology, etc.), crisis management, the specificities of consular work, gender equality, new communication challenges, relations with civil society, economic diplomacy, career paths and professional mobility.
High-level speakers and external actors of diplomacy were interviewed by each working group in order to hear the recommendations of the partners of French diplomacy for the future. These speakers, including members of parliament, representatives of local government bodies, businesses, NGOs and the media, and researchers, are stakeholders of France's foreign policy.
The Review also established an advisory committee made up of qualified persons from various backgrounds in order to provide an outside perspective on the results of the staff consultation.
At the end of the consultation in early 2023, the working groups began consolidating contributions, analysis and proposals for a report to be submitted to the authorities.
This report was delivered to Catherine Colonna, Minister for Europe and Foreign Affairs, and aims to reflect the perception staff members have of working in diplomatic professions. It also offers tangible, applicable recommendations to enhance the effectiveness of our diplomacy. Lastly, the report will help consolidate the guarantees provided for the preservation and application of a professional foreign service of career diplomats.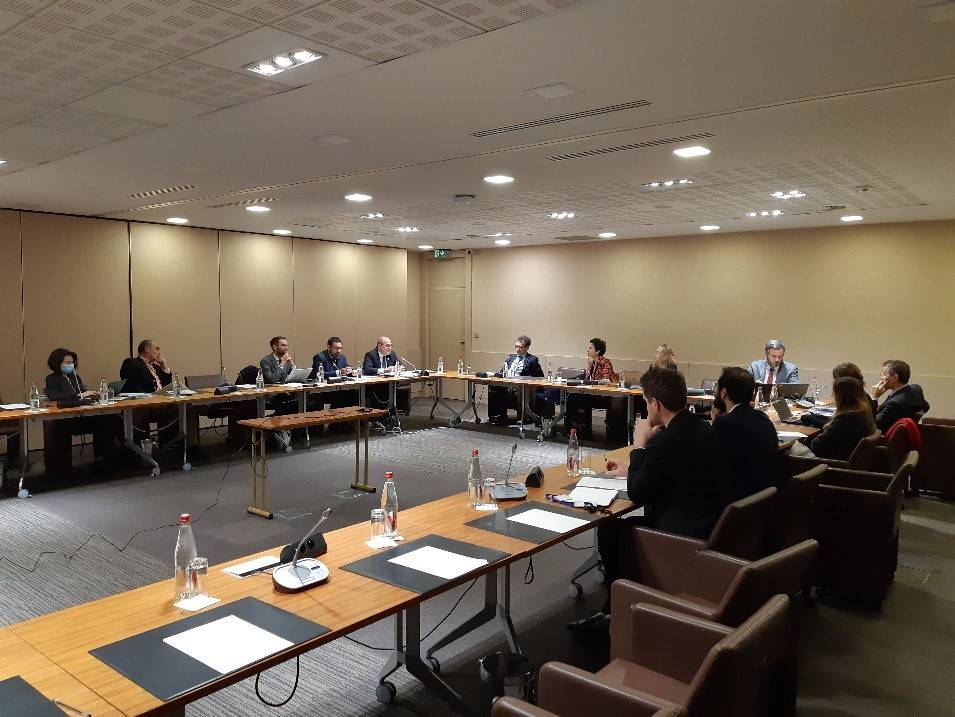 The Diplomatic Service Review on social media:
Originally published at https://www.diplomatie.gouv.fr/en/the-ministry-and-its-network/the-work-of-the-ministry-for-europe-and-foreign-affairs/foreign-service-review/article/foreign-service-review